Free Mastering Racks for Ableton Live 9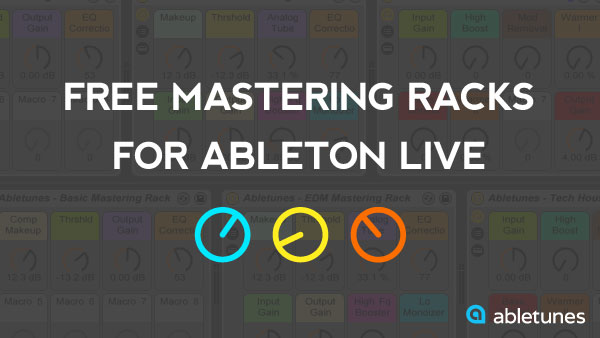 Mastering is a tricky process and it takes many years of training to become a good mastering engineer. And unfortunately there are no golden presets or plugins, every track is different and requires different tools and settings. But don't worry, we are here to help you!
Check out our free mastering racks for Ableton Live 9 and use them as a good starting point to make your tracks loud and shiny!
Inside this pack you will find 3 racks:
Basic Mastering Rack – perfect starting point for the mastering process.
EDM Mastering Rack – designed to make your mixes loud and explosive.
Tech House Mastering Rack – perfect for House, Tech House, Deep House and Techno.
Each rack has handy macro controls but we recommend you to tweak each plugin individually. We used these racks for lots of our Ableton Live templates so they are well tested and have proven to be effective.
With these Ableton Live racks you can quickly test out your mixes, prepare your track to play on a gig or even construct your own mastering chain.
Installation:
Simply drag and drop *.adg files into MIDI tracks or copy them to:
MAC OS X:
{user name}/Library/Application Support/Ableton/Library/Presets/Instruments/Instrument Rack/
WINDOWS:
C:\Users\{user name}\Documents\Ableton\User Library\Presets\Instruments\Instrument Rack



More freebies here