8 Free Ableton Live Racks – Mixing and Mastering Tools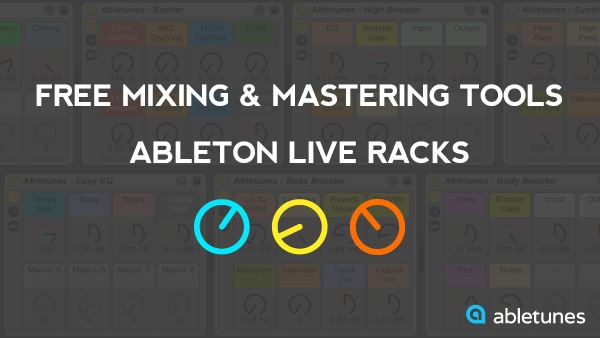 We are pleased to present our "Mixing and Mastering Tools" – free Ableton Live racks that simplify common tasks such as equalization, low-end control, stereo imaging, etc. You may find some of them in our Ableton templates. Actually we were planning to sell them, but decided to offer them for free because we think you're awesome!
Using only Ableton's built in plugins and effects we've designed a set of useful racks for mixing and mastering purposes. Each rack comes with useful macro controls for key parameters, but you can always dig deeper and open them up to customize everything to fit your needs perfectly.
In this pack you will find 8 expertly crafted free Ableton Live racks that will save your time and bring your tracks to the next level!
Maximizer – compressor and limiter designed specifically for EDM mastering.
Bass Body Booster – perfect tool for adding weight and body to bass instruments.
Body Booster – same as Bass Body Booster, but for leads and synths.
High Booster – use High Booster to make your synths, leads and tops sound sharp and crisp.
Imager – a multiband stereo widening and narrowing rack that allows you control stereo width of each band.
Easy EQ – simple but smart mastering EQ tuned to three main frequency regions, and due to specific setting allows you quickly fix problematic frequencies in your mixes.
Low-end Control – perfect tool to control low-end of your mixes or bass instruments (you may need speakers with a good bass response to hear the effect).
Exciter – this rack is a must if you want to enhance low, mid or high frequencies of any individual instrument or an entire mix.


No email sign-ups, Facebook likes or anything else required.

But we would really appreciate it if you would share this post on Facebook, Twitter or any other social network

Installation:
Simply drag and drop each *.adg file into MIDI/Audio track in Ableton or copy them to:
MAC OS X:
{user name}/Library/Application Support/Ableton/Library/Presets/Audio Effects/Audio Effect Rack
WINDOWS:
C:\Users\{user name}\Documents\Ableton\User Library\Presets\Audio Effects\Audio Effect Rack