Ableton Live Versions – Which Should You Buy?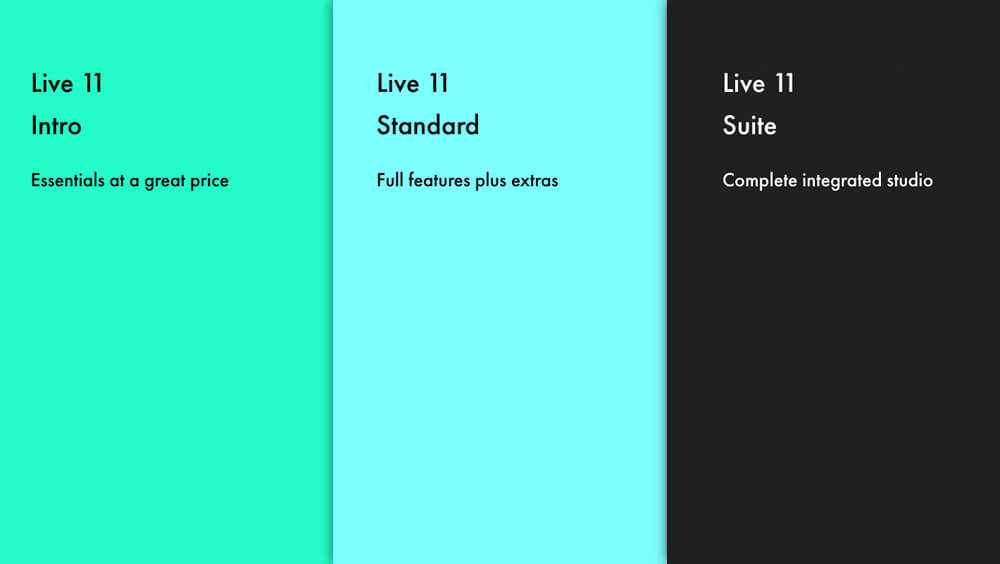 Confused about your options? Fret no more. We're here to clarify it all for you! There are several versions of Ableton Live you can buy.
These are as follows (prices are official Ableton, 09/12/2021):
Live Intro: $99 USD
Live Standard: $449 USD
Live Suite: $749 USD
All versions available on monthly Installments.
All these can be bought online from Ableton, and also from other shops.
Educational discounts: Note that students and teachers can get up to 40% discount on all versions.
Upgrades: You can start with one and upgrade to another, if you want. You can upgrade from Intro to Standard etc, and also upgrade from earlier versions e.g. Live 10 to Live 11. All upgrades within a major version (11.02, 11.02 etc) are free of charge.
Ableton have done a feature comparison chart for Intro, Standard and Suite here.
Live Lite
This version is a bit tricky. While you can download it for free, you need a serial number to activate it. It is usually labeled as a manufacturer version, and comes free with some hardware (MIDI controllers, audio interfaces, etc.) or apps.
Despite its limited features, this is obviously a great way to get started. If and when you upgrade to a higher version, you'll get a discount, and so you may end up getting the hardware for free, effectively.
Live Intro
The basic intro version obviously. Costs $99. Enough to get started. You can make tunes and learn to use Live with this, but obviously it has it's limits. You can surpass some of them by installing additional synth and effect plugins, but the main limit is that you can only use 16 tracks.
Tip: The differences between Lite and Intro versions are really subtle. Instead of buying Intro version, we recommend to buy some hardware or app that comes with a serial number for Lite version.
Live Standard
Costs $449 USD for the download at Ableton. Shop around for bargains on boxed versions and upgrades from Intro, Lite, or earlier versions of Live. This version has no limits and comes with everything you need for professional music production.
The main thing you don't get with this is Live's synths, Packs (multisampled instruments and synth presets), and Max for Live (adds lots of new features, synths and effects). Some Live synths and effects are quite unique and worth upgrading to Suite, but if you already bought a lot of synth and effect plugins, then you may not really need them. Moreover, you can always get some free synths and free effect plugins.
And instead of Packs that come with Suite version, you can download tons of free Ableton instruments that are fully compatible with a Standard version of Live.
Live Suite
This version contains many cool effects, synths and Packs not found in Live Standard, such as Wavetable (wavetable synth), Operator (FM synth), Analog (subtractive synth), Collision (percussion synth), Sampler (advanced multisampler) and Max for Live. The synths and Packs are great value for money and Max for Live is useful for all sorts of things, so this really is the ideal version to go for if you can afford it.
Tip: Ableton allows license transfer and you can find really good deals on Facebook groups and music production forums. You can save up to 50% so it is worth to search for a "used" copy of Live if your budget is tight.
Push packages
Ableton makes Push – a hardware instrument (controller) perfectly integrated with Live. And there are packages to buy the software and the hardware together, both in the Ableton shop and in various music shops. Depending on the version of Live, you can get $100+ discount if you buy Push and Live together.
Last, but not least. There is a fully-featured 90-days trial version of Live Suite so you can examine all effects, synths and Max for Live devices before making a choice.