Free Ableton Live Templates by Abletunes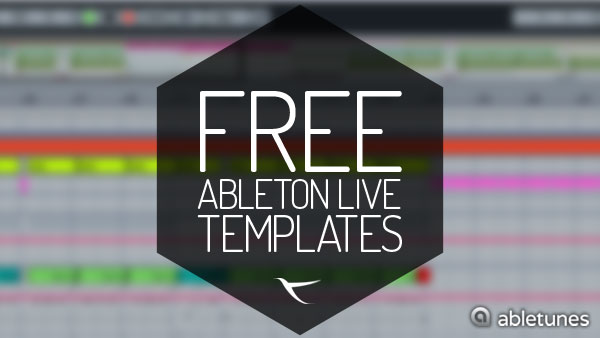 Last Update July 27th, 2016 Over the years we've created a great collection of free Ableton templates. But they could be difficult to find, as they were spread all over our website, Facebook page and blog. So we've gathered them together in one place for your convenience.
Just like our regular templates, our free Ableton templates are fully mixed, mastered and arranged. Almost all instruments and drums set up as MIDI, so they're all 100% editable – you can choose your own sounds and presets, change the melody and edit the tempo. Our templates are royalty free so you can use samples, plug-ins presets and racks for your own production. Or you can simply use them as a good starting point for your new tracks.
First of all we are giving away our bonus template that was free with any purchase awhile ago – "Dope as F*ck". This template will be a helpful starting point for EDM producers inspired by labels like Spinnin', Revealed and Protocol. It requires Ableton Live Standard 9.0.1 (or higher) and only one 3rd party VSTi plugin Sylenth1 (v2.21). You will get lots of sounds, ideas and inspiration!
"Sugar Boss" – this is pretty old template for Ableton Live 8, but you can still learn from it. It takes inspiration from what is being called "French Electro House". If you like distorted side chained bass lines and huge beats of JUSTICE, MODE SELEKTOR and UTKU S then you need to get your hands on this bangin' template. Just click the download button below and grab it absolutely for free!
Tech Specs:
Ableton Live 8.1.4 (OR HIGHER) Template
Instruments/Plugins: Simpler, Impulse, Operator
PC and Mac Compatible
Additional VSTi: -
Audio Tracks: 2
MIDI Tracks: 7
Return (Send) Tracks: -
Download Size: 1.78 MB
All files are royalty free
We also have three free templates on our website. You can download "San Tropez", "Glow Stick Box", "Spider" absolutely free by following
this link
. This pack also includes our time-saving Production Template.

You can download another three free templates on our Facebook page – "Elements of Sound", "Encoded Beats" and "Slider Beat". Look for the "Free Downloads" tab on the left.
And finally you can get Future Bass Ableton Live template "Hideout" absolutely free with ANY purchase from our website. See what's inside:
Well, that's all folks. We've collected all our free Ableton templates in this post – that's 7 in total! We hope you will find them useful and learn something new! And don't forget that we have lots of great free racks and other freebies here.